Cumgirl8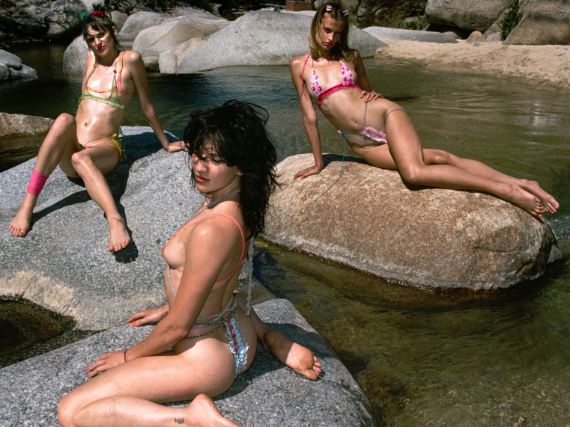 Something seismic shifted when bassist Lida Fox, guitarist Veronika Vilim, and drummer Chase joined forces, and their rehearsals quickly morphed into an expansive creative cosmos. Thrilled by the limitless possibilities fostered by the internet-as-metaphor, they named their punk-adventurist trio cumgirl8. Vilim explains the project's world-built backstory matter-of-factly: "cumgirl8 is a universe through the computer. It's a happy place that takes you away from reality, and brings you to one that is colorful, accepting and beautiful!" Evocative of AIM handles of yore, the moniker is a simultaneous wink to the freedom granted by online anonymity, and a cheer for the sex-positive, sex worker-supportive possibilities of the web at its most utopian. With tight layers of boundary-obliterating guitars, time-bending rhythms, and daring explorations in storytelling, cumgirl8 continues to vividly reinvent itself in myriad mediums, always with a focus on community, expression and growth.
At the band's start, Fox and Vilim had been friends for over a decade, much of which they'd spent obsessing together over boundary-pushing music. "We were inexperienced in our instruments, but needed an outlet to express our frustrations and creativity," Fox recalls. Both were former ballerinas with an innate sense of movement, and they found themselves quickly translating emotions into rhythm when they jammed with Chase, whose résumé includes queer shred legends Thelma & the Sleaze and Brooklynite skate rockers BOYTOY. "Lida's melodies and timing are written in cursive with a quill pen. It's so ornate, and so fun," gushes Chase. Pulling from previous artmaking experience in film, photography, and book publishing, the trio launched into a new band as equally inspired by anime, Eileen Myles and iconic teen movies as it was by wide-ranging musical heroes (the Slits, Art Blakey, and Nine Inch Nails, to name a small handful).
Eager to evolve through performance, cumgirl8 stage-tested their earliest songs at beloved punk and experimental venues like Zebulon and Saint Vitus. They met a kindred collaborative spirit in recording engineer Ben Greenberg (Deradoorian, Danny Elfman), who facilitated the group's vision and encouraged them to incorporate unusual equipment—like an electric drill, played by Vilim on her guitar pickups. Their first album, a self-titled collection of live-tracked post-punk that melds club groove and shimmering goth textures, was released in May 2020. While other artists felt their post-release plans thwarted by stay-at-home mandates, cumgirl8 is a product of and an homage to a tentacular cyberworld, and so the trio expanded its vision and aim 360.
First came The 1-900, the band's YouTube series featuring interviews with musical peers, community members and "cumrades" like Junglepussy, Surfbort, and political activist Paperboy Love Prince. Next was "COLLECTION 0.1," a home-sewed, home-filmed runway show centering candy-colored clubwear designed by the group and modeled by New York nightlife heroes like rapper Dai Burger; through its telethon debut, the show also raised funds for the Ali Forney Center, an LGBTQ+ outreach organization that empowers youth experiencing homelessness. "It's been extra formative working on projects beyond the musical ones; we've had to stretch our minds together to build the most lucid concept of what we want to represent," says Chase. Those explorations solidified the trio's mutual trust, and fed the material that became their latest EP.
RIPcumgirl8 sees the band diving deeper into its already eclectic well of influences, incorporating disaffection, theatricality, spookiness and majesty through imagistic lyrics and magnetic performance. But why RIP? "Unfortunately, we were banned from Instagram, YouTube, and restricted on our website for being too sexual, even though we censor ourselves constantly and don't seem to have gone against the guidelines," laments Fox. But the band was not deterred, and used its trademark keen glamour to write through its members' rightful frustrations. Recorded once more with Ben Greenberg, RIPcumgirl8 was tracked without the stage in mind, allowing for hyper-detailed arrangements saturated with vibrant, magical details. With traded-off lead lines and democratically composed arrangements, the vocals shift from droll clarity à la Beat Happening to menacing shouts closer to the covenous power of L7. Helical bass and guitar riffs from Vilim and Fox create sprawling playgrounds for texture; re-amped drums magnify Chase's groove, booming with the force of a race-commencing gunshot. Playful tones like synth squiggles and a circuit bent cat keyboard harken to the limitlessly possibilities of identity and sound. It's a rebirth, a glowing mirror reflection of the fantasy universe to which cumgirl8 aspires, and a reminder that through art, love, friendship, and connection, there should be no limit to creative experimentation and positive growth.
There are currently no upcoming events.