Thus Love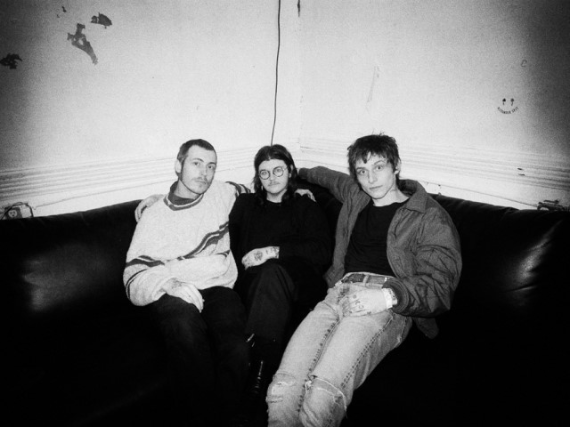 THUS LOVE is a band—but also so much more. The Brattleboro, Vermont trio stand together, a bond cemented by their experience as outsiders looking in. For THUS LOVE, DIY is an ethos that reflects not only their musical vision but their very existence as three self-identifying trans artists. From the band's inception, Echo Mars (she/her), Lu Racine (he/him) and Nathaniel van Osdol (they/them) have lived together under the same roof, designed and produced their own merch, and even created their own recording studio from scratch. "I realize that most artists don't live this way," says Mars. "But for us, it was never really a choice. The art we make is so tied to who we are and the community we're a part of, that this is the only way we can possibly do it."
THUS LOVE traces its beginnings to Mars' and Racine's serendipitous meeting at a local print shop in 2018, when the multi-instrumentalists agreed to collaborate on a new musical project. THUS LOVE's lineup clicked into place when Mars and Racine were finally able to convince their roommate van Osdol to join on bass in 2019. The band was just starting to regularly headline renowned local venue The Stone Church when everything came to a sudden and screeching halt. "The pandemic hit everyone hard, but I think it was especially difficult for new artists like us that rely on live shows to spread the word," says Racine. "At that point, we had a couple of demos and we weren't sure what the future would hold." Rather than idly wait, the band decided to take their future in their own hands. Armed with nothing but YouTube videos and her innate curiosity, Mars constructed a makeshift studio in their rented apartment above downtown Brattleboro, recording during odd hours when their next-door neighbors were out and about.
There are currently no upcoming events.